Kathy Miller
Reproduction Coordinator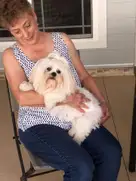 Our authority on all things administrative with Paws Tennesee. Kathy comes from a corporate background and really knows how to keep things organized. She manages our semen storage facility and stud listings. She is also an authority on interstate and international shipping of semen.
Kathy shows and raises champion Lhasa Apso and French Bulldogs.
---
Diane Green
Reproduction Development and Research, and Canine Neonatal Care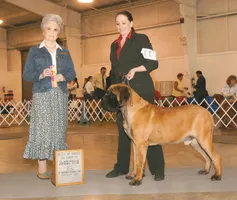 Diane (pronounced Dee-On) is originally from Paris France, Diane moved to the USA after finding love in the states. She used her nursing degree to study nutrition, structure, orthopedics, genetics, neonatal, fertility, and some alternative medicines as she started her line of Mastiffs over 20 years ago. Mastiffs, being a difficult breed, has driven Diane to learn more and think outside the box when it comes to breeding, pregnancy, whelping, and canine pediatrics.
When not at the clinic, Diane is not far from her passion. She works a lot from home, assisting Dr. Adams with answering questions over the phone or internet, to developing new protocols and techniques; and working with our international partners.
Diane shows and breeds champion Mastiffs. She has provided canine neonatal care to many of our reproduction litters.
Her passion is puppies and improving each breed thru education and learning. Diane manages high risk pregnancy, from confirmed pregnancy to whelping time at home working with Dr. Adams to get some of the most challenging girls puppies to show off. Although her love is the Mastiffs, Diane has managed Chihuahuas to Great Danes to American Bullies to English Bulldogs. Living with her at home are Mastiffs, two French Bulldogs, and whatever needs aid at that time.
---
---