Our neonatal team is an exceptional group. Their love of dogs, not only the personal ones they have, but all dogs and puppies is extraordinary. They take care of litters small or large (1-12 puppies) with the same attention to detail. Experienced, over 20 years each, and many breeds from Chihuahua, Yorkshire Terriers, Pomerians, French Bulldogs, Bulldogs, Shorty Bulls, American Pit Bull Terriers to Rottweiler and Mastiffs.
Meet..
Diane Green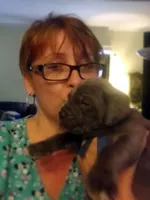 Originally from Paris France, She used her nursing degree to study nutrition, structure, orthopedics, genetics, neonatal, fertility, and some alternative medicines as she started her line of Mastiffs over 20 years ago. Mastiffs, being a difficult breed, has driven Diane to learn more and think outside the box when it comes to breeding, pregnancy, whelping, and pediatrics.
Her passion is puppies and improving each breed thru education and learning. Diane manages high risk pregnancy, from confirmed pregnancy to whelping time at home working with Dr. Adams to get some of the most challenging girls puppies to show off. Although her love is the Mastiffs, Diane has managed Chihuahuas to Great Danes to American Bullies to English Bulldogs. Living with her at home are Mastiffs, two French Bulldogs, and whatever needs aid at that time.
Tracy Sircy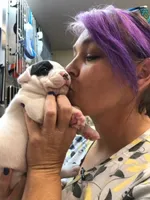 Tracy started out as a client, with her bulldog, Precious. She brings with her experience in human health care and raising 7 children. She is an ideal person to help us work with our breeding patients to the neonates. She has a knack for physical therapy helping each of our patients recover properly.
Tracy understands and has the experience in the breeding process needed for canine high risk pregnancies, and the neonatal care needed for those high risk puppies, having great success with caring for special needs dogs.